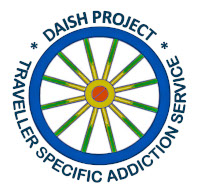 DAISH is a Traveller specific addiction service that was set up in response to the issue of substance abuse within the Travelling Community. DAISH aims to address substance misuse among Travellers in a culturally appropriate way. DAISH is funded by the HSE via Bray Local Drug and Alcohol Task Force.
Contact:
Christy Moorehouse 087-9019351 Daishproject.manager@outlook.com
Roisin Verdon 085-1942498 Daishproject.roisin@outlook.com
Our Services include:
One to One support
Advocacy & Referral
Keyworking & Case Management
Family Support
Health Promotion & Harm reduction services
Drugs Education & prevention programms
Counselling
Referral to Detoxification & Rehabilitation services
Referral to needle exchange services
Support Groups: (In BTCDG Offices)
Due to COVID-19 restrictions we are currently seeing service users by appointment only, urgent issues can be accommodated by contacting the service.
Reduce the Use Group - Monday 2:00pm - 4:00pm
5 Step Family Support Group - Tuesday 10.00am - 12.00pm
Womens Group - Wednesday 2:00pm - 4:00pm
Smart Recovery Group - Friday 2:00-4:00pm